Today's Hammond plant is 150,000 sq. ft. of modern production equipment, offices and laboratory. Within our facilities, we manufacture all of our own components and cast urethane for our and other makes of vibratory bowls and centifugal disks.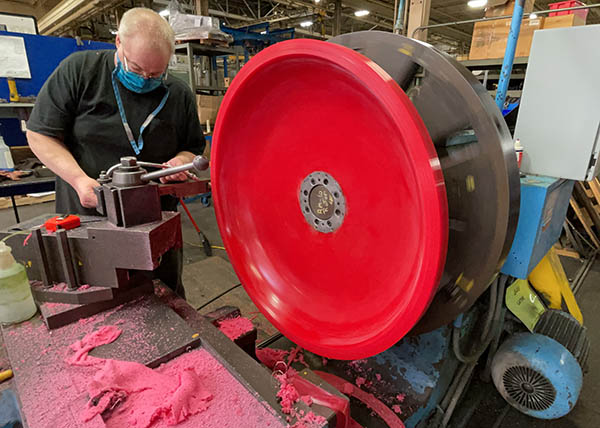 PRODUCT ENGINEERING DEPARTMENT
  Drawing Software………..
Auto-Cad
SolidWorks
Auto-Cad Electrical
MASS FINISHING PROCESS LAB
Our State-of-the-art lab covers a wide range of technology and applications manufactured by Hammond Roto-Finish. We have running models of all categories of our mass finish equipment. Grinding, buffing and polishing equipment, robotic polishing heads, robots and grippers, and even a range of surface measuring equipment available for process development for our customers. 
SERVICE DEPARTMENT & PARTS INVENTORY
Thousands of parts stocked in inventory for fast shipment of replacement parts.
Mitutoyo Surface Analyzer
Optical Comparator
Bore Scope
MACHINE LINING DEPARTMENT
Climate controlled with hot, cold and spray urethane capabilities. We offer the thickest lining in the industry and the highest quality molds. 2 year history coupons are kept for every pour.
Standard and customized formulas engineered by one of our master chemists.
COMPREHENSIVE MANUFACTURING FACILITIES
Welding stations, Abrasive Blasting Room for surface prep of machines (30' x 30'), 2 Paint Booths throughout the facility, complete In-House Machine Shop (8 CNC machines), Turning, Milling and short run Prototyping Department.
SHIPPING & RECEIVING DEPARTMENT
All machinery is fully crated and photographed prior to every shipment.
We can build and run off virtually any size machine on site.
Over 200 styles to work with.